USI High School Business Day
Our fourth annual High School Business Day was held Friday, November 8, 2019. Students from area high schools competed in team and individual challenges for top spots and scholarships. Thank you to the community volunteers from the Accounting Circle and Young Professionals, USI faculty and staff, and USI students for organizing this event and welcoming these students, educators, and parents to the USI campus.
Congratulations to these students:
Team challenge: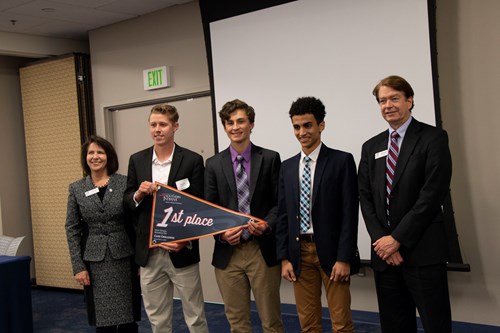 First place: F.J. Reitz High School-Dean Cathy Carey, Noah Nellis, Nathan Gmutza, Suhaib Mohammed, and Dr. Brian McGuire.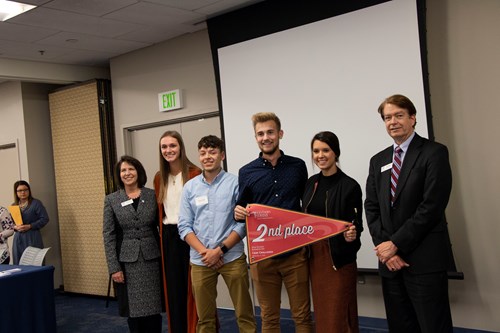 Second place: Henderson County High School-Kenna Newsome, Jordan Toribio, Jacob Sauls, Estie Hazelwood.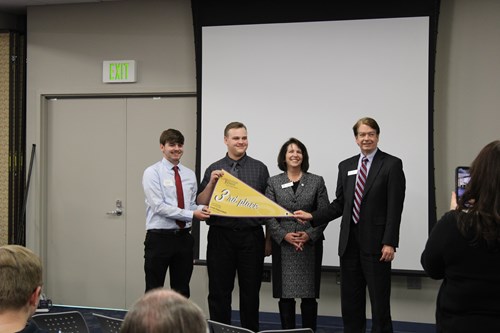 Third place: Evansville North High School-Hunter Devine and Chance Epley.
Individual competition: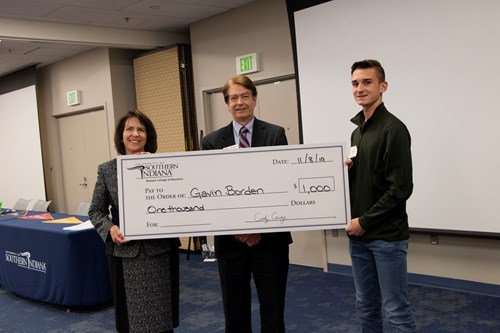 First place: Gavin Borden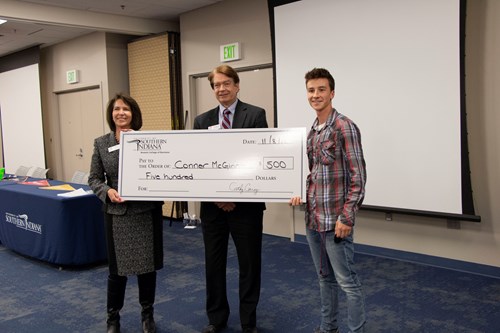 Second place: Connor McGinnis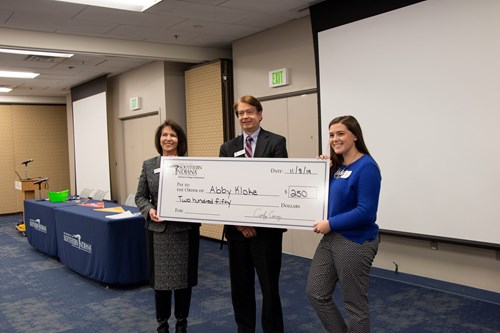 Third place: Abby Kloke
---
2019 Event Info
The Romain College of Business is pleased to announce:
High School Business Day
Friday, November 8, 2019
University of Southern Indiana
This year's High School Business Day will feature both group and individual challenges and provide students the opportunity to compete for scholarships to the Romain College of Business, gain valuable experience, and network with faculty, USI students, and local business professionals. This day is open to all high school students who are interested in learning and having fun. Students may enter one or both challenges or simply enjoy the day.
Case Challenge - 2019 Case Challenge
The case competition allows teams of 2-5 students to respond to a challenging, real-world business problem.
At the competition, teams present their case solution and answer questions in front of a panel of judges comprised of accounting professionals, professors, and college students.
Top team wins $750 cash to split among team members and $250 cash for the school
Scholarship Challenge - 2019 Study Guide
Individual high school students have an opportunity to take a multiple-choice examination to test their knowledge of business skills and concepts. The examination is taken at the event.
Awards for highest scores with quickest times:

First place - $1,000 scholarship to Romain College of Business
Second place - $500 scholarship to Romain College of Business
Third place - $250 scholarship to Romain College of Business
While we expect the case and individual challenges to be interesting and competitive, November 8 promises to be another enjoyable day for teachers, parents, and students. The day will begin with registration and a welcome message. Teams will present their case solutions and compete in the individual challenge. Midday will feature a panel discussion, lunch, and tour of campus. The day will conclude with an awards presentation. Throughout the day, students will have a chance to interact with USI business faculty, USI students, and business professionals.
Tentative Schedule
8:00 - 8:30 Registration
8:30 - 9:00 Welcome
9:00 - 11:00 Case Presentations/Networking Opportunity

9:00 - 10:00 - Case Presentations - Group A/College activities
10:00 - 11:00 - Case Presentations - Group B/Student Organization Fair

11:00 - 11:45 Lunch
11:45 - 12:30 Panel Discussion, including open questions
12:30 - 1:30 Individual Competition/tour of specialty labs
1:30 - 2:45 Campus Tour
2:45 - 3:00 Break
3:00 - 3:30 Awards Ceremony and Conclusion
Testimonials from previous high school participants
"I am a senior in high school who participated in the University of Southern Indiana Business Case Study. I plan on majoring in accounting so I found this event to be very helpful and beneficial. I also found this event to be very fun. Between working closely with my teammates and meeting other high school students along with college students, this event has to be one of the best ones I have ever attended. The tour of the campus was beautiful and very helpful in picking a college, not mention the amazing prizes. I would highly recommend this event to any student in business or even remotely interested in business. I loved it!" -Jaycee Simpson
"The USI High School Case Study has been one of the most rewarding and best experiences I have been apart of in high school. My team's mentors Chris and Jonathan were amazing, they came in and guided us from a simple start to our final project. Overall from the second we met with our mentors to the moment we accepted the award and drove home, this event is the most beneficial and rewarding high school business event around." -Alex Wheeler