We are glad you are here. We know that as successful USI graduates you will have much higher lifetime earnings, greater job satisfaction, and if you've done your best, you will have learned to live wisely.
What does it mean to live wisely? Scholar and author Sharon Daloz Parks wrote how critical it is that as young adults, you learn to ask big questions and dream worthy dreams. This means that you will envision how you can contribute to your communities. This also means that you will make choices that reflect the values you hold dear. We work to shape our university environment in a way that encourages you to ask big questions, dream worthy dreams, and learn to live wisely.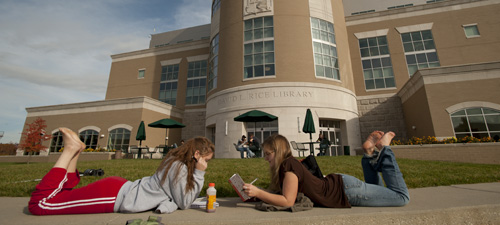 In terms of your college experience, this means that you will explore how to integrate your academic experience with your out of classroom opportunities. You may choose to join a student organization related to your academic major or you might seek a student leadership role in which you plan activities for the student body or mentor grade school children. Regardless of your specific interests, this page is your portal to various opportunities, services, and programs to help you connect with your institution. As you explore, we think you will find a vast array of areas in which you can become involved, learn, make life-long friends, and contribute to your university community.