Among programs USI manages are: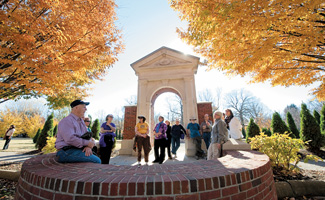 The University is actively engaged in developing economic, cultural, and educational opportunities in southern Indiana. Many faculty and staff extend their expertise to activities throughout the region. The University enjoys a mutually beneficial relationship with the historic town of New Harmony, Indiana, a community with a rich intellectual and cultural inheritance, providing laboratory learning experiences for the town and the University. New Harmony was the site of two utopian community experiments in the early 1800s, and today is a destination for tourists and arts patrons. The University offers professional theatre in the summer months at The New Harmony Theatre, operates the New Harmony Gallery of Contemporary Art, and offers tourism and education programs about the community.
The University welcomes appropriate partnerships for providing services to its constituency and cooperates with public and private universities, regional hospitals, and a local library consortium. The University participates with area business, industry, and social and governmental agencies for applied and partnership initiatives related to the problems and concerns of economic and workforce development, entrepreneurship and innovation, tourism and recreation, health‑care delivery, gerontology, energy development, and environmental-quality analysis. Community groups often use academic resources and campus facilities.
While service to the region has always been a core value of the institution, an expanded focus on outreach and engagement is shaping new awareness and expectations of the University's role in the region. Expectations from government, business, and community leaders that USI will provide leadership to economic and workforce development initiatives is reflected in recent institutional emphasis on applied research, scholarly engagement, service learning, faculty and student consulting, and regional partnerships. Faculty, staff, and student expertise is extended to activities throughout the region. The University's commitment to regional development is demonstrated in the successful relationship with the historic town of New Harmony and the heritage tourism program of the 26-county Historic Southern Indiana Alliance.
Workforce development issues are addressed through targeted degree credit programs, noncredit and contractual programs for a variety of industries, on-site training, and partnerships with regional economic development organizations. University partnerships with the Evansville certified technology park and incubator, Innovation Point, Southwest Indiana WIRED (Workforce Innovation in Regional Economic Development), and various STEM (Science, Technology, Engineering, and Mathematics) -related education projects demonstrate USI's active engagement philosophy. For the short term, the primary areas of outreach focus are economic development, workforce and regional development, and expanded involvement with P-12 education. USI was named a Carnegie Commission "Engaged University" in 2008.