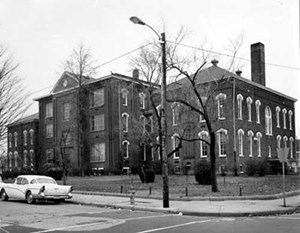 Centennial School
The rich history of the University of Southern Indiana extends from its early founding at Centennial School to its growth and current 1,400-acre campus on Evansville's westside; from the nationally-recognized education programs to the multiple athletic national championships. 
The University was established in 1965 in response to a need for public higher education in southwestern Indiana. From its earliest stage of planning in the early 1960s, community leaders have supported the University by providing a solid base for its present success and future growth.

The University of Southern Indiana began as a regional campus of Indiana State University, opening on September 15, 1965. In 1967, Southern Indiana Higher Education, Inc., (SIHE) raised nearly $1 million to acquire 1,400 acres for the Mid-America University Center. Groundbreaking was held June 22, 1968. Since September 1969, the University has occupied 330 acres, mostly donated by SIHE. On April 16, 1985, legislation was signed which made USI a separate state university. All legal matters were effective July 1, 1985. On June 30, 2008, SIHE transferred ownership of over 900 acres of land and remaining assets to the USI Foundation.

There are four academic colleges within the University's structure: Romain College of Business, College of Liberal Arts, College of Nursing and Health Professions, and Pott College of Science, Engineering, and Education. Students also are served through Outreach and Engagement and University Division. The University of Southern Indiana is one of five state universities in Indiana conferring baccalaureate and higher degrees.