Veteran, First Responder and Healthcare Professionals Mental Health Summit and Resource Fair
REGISTRATION LINK NOW CLOSED - THANK YOU TO ALL THAT PARTICIPATED IN THIS YEARS EVENT
Need Help? - Click Here for Registration Assistance
(Resource Fair is a separate registration.  Please see link below)
Through an increased collaboration of mental health professional and providers in our community, the Military, First Responders and Health Care Professionals Mental Health Summit is to enhance the mental health and well-being of our community service members, first responders, healthcare professionals and their family members.  
OUR GOAL: 
To engage in active dialogue on how we as a community can address the mental healthcare needs of those who serve our community and nation.

Recognize and celebrate the ways that community organizations and structures support and promote mental health

Foster cross-cultural connections among mental health practitioners, students and community leaders

Provide opportunities for mental health and health providers and school personnel to interact around important topics
Open to All Military, First Responders, and all Healthcare Professionals and Providers! 
Peer-to-peer presentations by mental health professionals like you
Special guest speakers who are experts in their fields
Continuing education hours
Lunch provided
FREE Resource Fair (Separate Registration)
FEATURED GUEST SPEAKERS: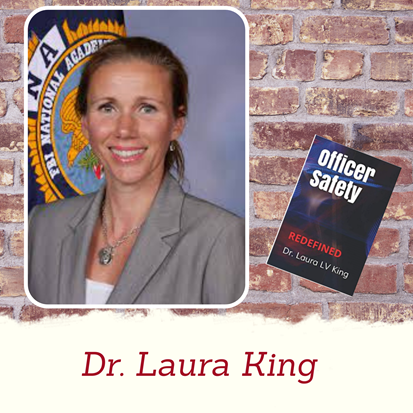 Dr. Laura L. V. King, author of Officer Safety Redefined, currently serves as the Chief of Police for the McHenry County Conservation District PD. Prior to her current assignment, she served as the Commander of the Support Services Division of the McHenry, Illinois, Police Department from 1996-2016.
Dr. King has had many officer wellness related articles published in various professional journals. She works as a subject matter expert for BJA's VALOR for Blue program and travels the country speaking on matters of mental wellness, psychological resiliency and physical fitness.
Dr. King received her doctorate of philosophy and her master's degree in psychology at Capella University in Minneapolis, Minnesota; she received a bachelor of arts degree in criminal justice management from Judson University in Elgin, Illinois. She is a graduate of both Northwestern University's School of Police Staff and Command and of Session 265 of the FBI's National Academy.
2022 RESOURCE FAIR REGISTRATION  We are excited about all of the responses and community organizations that will be represented at this year's summit.  The response for the resource fair was overwhelming and is currently full.  Registration for the summit is still open if you would like to attend as a participant.  Resource Fair registration does not include entry into the summit. (Separate Registration from the Summit)
Proposed Agenda for Military and First Responders Mental Health Summit 
Time

Content

Speaker

8:00 – 8:30 am

Registration, Resource Fair

8:30 – 9:00 am

Welcome

9:00 – 10:00 am

Why this Summit is Important:

Trends, Stats, and Facts

Dr. Umar Latif, MD, FAPA, Medical Director, Help for Heroes

10:00-10:45 am

Personal Story

Mr. Kevin Zimmerman

10:45-11:00 am

Break/Resource Fair

11:00-12:00 noon

Breakout Concurrent Sessions

Ms. Kady Schane

PTSD, Sexual Trauma, Combat Trauma, Trauma Informed Care

Judge Jill Marcrum

Barriers to Care

Mr. Kent Leslie

CALM Training

12:00-1:00 pm

Lunch/Resource Fair

1:00 – 2:00 pm

  First Responder Resiliency and Self Care

 Dr. Laura King

2:00 – 3:00 pm

Personal Story

Mr. Chris Fields

3:00 – 3:15 pm

Break/Resource Fair

3:15 – 4:15 pm

Panel Discussion: Mental Health Support for Health Care Providers, Veterans, and First Responders

Moderator – Kevin Groves

Fire, Law Enforcement, Eric McDaniel (Veterans), Deaconess Cross Pointe Therapist/Support Groups, Southwestern Crisis Team Lisa Withrow

4:15 – 4:30 pm

Closing

 
VERY SPECIAL THANK YOU TO OUR 2022 COMMUNITY PARTNERS:

Our event this year will be in Carter Hall in our University Center-east building.  Signs will be posted on campus to re-direct anyone who wants to attend this year's Mental Health Summit.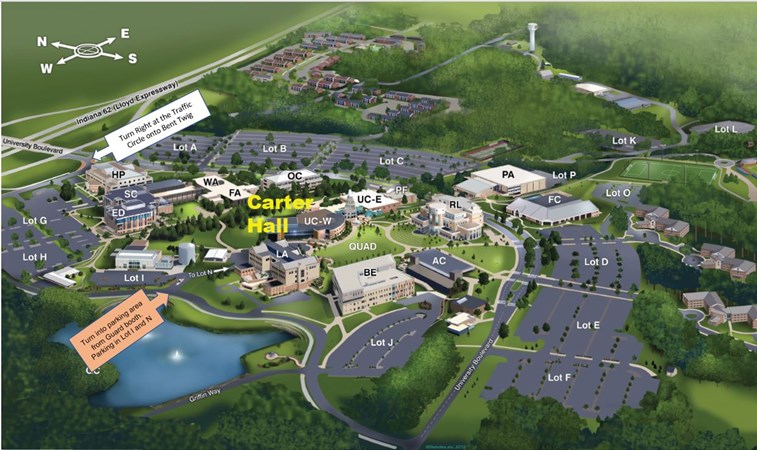 USI Carter Hall - University Center West
Carter Hall (Ballroom)
Carter Hall was a generous gift of Jennings D. "Nick" Carter in loving memory of his wife Josephine K. Carter. Constructed in 1997, Carter Hall is located on the second floor of the University Center (West) and is primarily used for large meetings, conferences.
Parking is available in Lot I and N with building entrances to the lower level of the University Center.  Handicapped spaces are available in Lot N. 
Online registration available by clicking the link above.