Evansville Airport Launches Marketing Challenge to USI Students
During his presentation, "Flight Plan for Your Career: Passion, Persistence, Performance & Patience," Doug Joest, Executive Director of the Evansville-Vanderburgh Airport Authority District, issued a challenge. He asked USI students to come up with a marketing campaign that would encourage passengers from the tri-state area to choose Evansville Regional Airport first. Many flyers are not aware that the service, connections, and rates are comparable to larger metro airports. Details of the challenge are still being arranged and will be announced by the Romain College at a later date.
Joest was chosen as the 2015 Executive in Residence for the Romain College of Business. He discussed how passion, performance, persistence, and patience have each played a role in his path to career success. He delivered several messages to students: Find your passion and do anything that's required. No matter what the problem, persistence can help you reach your goal. When it comes to performance, face the problem, focus on the problem, and perform well for the customer. And, have patience because learning happens over a lifetime, not overnight. He encouraged students to try new things, like extracurricular activities on campus, because "you may find out later it helps you in ways you can't imagine now."
Joest found his passion for aviation at a young age, and he shared that passion by giving four USI students each an introductory flight lesson from Tri-State Aero, Inc. Most professors on campus discourage the use of smartphones during class times; however, Joest asked the students to use the power of social media to share the Executive in Residence event they were attending. At the end of each presentation, the two students with the most "likes" and retweets were presented with certificates for the lessons.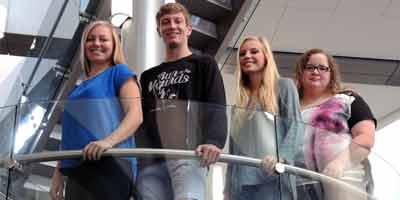 Left to right: Brook Kilian, Cain Parker, Alyssa Moore, and Crystal Blazier.
"I thoroughly enjoyed Mr. Joest's presentation," said Crystal Blazier, an accounting major. "I learned a lot about the Evansville Regional Airport, but my favorite part was seeing someone put their two passions together. Mr. Joest didn't have to give up his love for aviation to pursue a career in accounting/finance. He put the two together to pursue the career he is in now as the executive director of the Evansville Regional Airport."