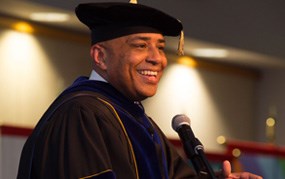 I am honored and humbled by the opportunity to serve as the fourth president of the University of Southern Indiana. The responsibility to shepherd and continue the evolution of this remarkable institution is something I am grateful for and hold deeply in my heart.
At the University of Southern Indiana, our strength and identity comes from the dedication and connections among our students, faculty, administrators, staff and alumni. As president, I'm committed to ensuring USI's mission and goals continue to serve our community's needs and that USI remains a vibrant and innovative place to learn, live, work and grow.
My love for this University comes from my love of teaching and being a life-long learner. I'm proud to say that USI is home to some of the best educators and role models in the nation. The quality of our academic programs coupled with our designation as a Carnegie Foundation Community Engaged University, empowers our students with the intellect and skills necessary to embrace the world and be successful.
The future is here, and I'm excited to see what the next generation of Screaming Eagles will do when they experience what USI has to offer.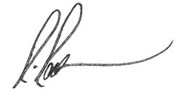 Ronald S. Rochon, Ph.D.
President