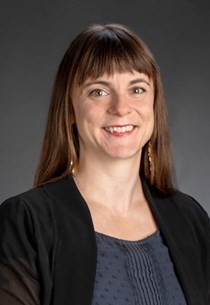 The University of Southern Indiana College of Liberal Arts will host a virtual Faculty Colloquia presentation featuring Dr. Rosalie Moffett, Assistant Professor of English, at 3 p.m. Friday, October 21. The public can attend the presentation, "Failure to Appear: A Poetry Reading," through a webinar link at USI.edu/lafc. The presentation will also be livestreamed on the College of Liberal Arts Facebook page and uploaded to the College of Liberal Arts YouTube.  
Moffetts' presentation is billed as being inspired by the warped manifestation of the American promise occurring in poems that consider capitalism, consumerism, car lot inflatable bald eagles, mass shootings, the tentacular Amazon fulfillment center, Scrooge McDuck and Lucky Charms. "These poems interrogate the nature of hope, what can be revered and the limits and possibilities of the human," she says.  
This presentation is part of the Spring 2022 Liberal Arts Faculty Colloquium. Each Fall and Spring Semester, USI faculty members from the College of Liberal Arts present individual, free public lectures featuring their current research. To see the current lineup of speakers for this semester, visit USI.edu/lafc.  
For more information, contact Dr. Quentin Maynard, Assistant Professor of Social Work, at 812-465-1003 or qrmaynard@usi.edu.