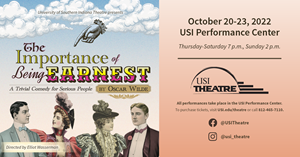 University of Southern Indiana Theatre will begin its 2022-23 season with Oscar Wilde's The Importance of Being Earnest: A Trivial Comedy for Serious People, directed by Elliot Wasserman, Professor of Theatre and Chair of the Philip H. Hagemann Performing Arts Department. The performance will run from Thursday, October 20 through Sunday, October 23 in the USI Performance Center. 
The Importance of Being Earnest: A Trivial Comedy for Serious People is USI Theatre's annual Repertory Project, which operates under a contract with the Actors' Equity Association, the professional union of actors and stage managers. The production will feature two professional actors in the cast, Laurie Dawn Roddy and Jason Pintar, and Union Stage Manager Margaret Kayes. 
Combining farcical situations and witty dialogue, Wilde's The Importance of Being Earnest is often considered the greatest comedy ever written by an English playwright. Two Victorian men create a fictitious life for themselves only to discover that the women they love can only love the fictional identity they share between them. On this thin premise, Wilde's timeless play has entertained millions for over 125 years. 
Wasserman will be joined by a design team including Paul Weimer, Associate Professor of Theatre, as Scenic Designer; Joshua Stallings, Performing Arts Department Facilities Coordinator, as Sound and Lighting Designer; Shan Jensen, Professor of Theatre, as Costume Designer; Andy Hammond, Theatre Technical Coordinator, as Technical Designer; and Lucy Brown, USI student, as Assistant Stage Manager. 
The cast of The Importance of Being Earnest includes USI students Isaiah Crutchfield, Dakota Smith, Michael Woywood, Jade Griffy, Madalyn Cottrell, Via Wagner, Grace DeVries, Chloe Kummer, Jaden Crouch and Abby Scheller. 
Tickets are $2 for USI students, $10 for USI employees, $4 for non-USI students (student ID required), $10 seniors (60+) and $12 for adults. Tickets are free to USI students with ID one hour before the show begins based on availability. Shows begin at 7 p.m. Thursday through Saturday and 2 p.m. for the Sunday matinee.   
To purchase tickets or for more information, visit USI.edu/liberal-arts/usi-theatre, or call the box office at 812-465-7110. Follow USI Theatre on Facebook at USITheatre and Instagram @USI_theatre.