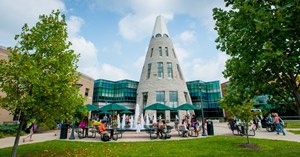 The University of Southern Indiana continues to represent underserved populations with students of color and international students making up a record 16.9% of the student population, up from the previous year's record of 15.9%. "Much of our strength as a University comes from the diversity of our members. Though we are making upward strides, there is still much work to be done," says USI President Ronald S. Rochon. "We are a University that accepts, embraces and celebrates human differences—these differences are our ultimate advantage and prepare our students to be lifetime learners in a diverse and global society."
Combined, undergraduate and graduate enrollment totaling 7,361 is down 7.3% compared to the 2021 Fall Semester. Overall undergraduate enrollment is 5,539. Total enrollment at USI, combining undergraduate, graduate and dual credit students taking courses in 33 high schools across the state through the College Achievement Program (CAP), is 9,178. In Fall 2022, 1,817 students are enrolled in the high school dual credit CAP program. Statistics show those coming to the University with CAP credit have higher rates of retention and are more likely to graduate and graduate on time.
USI welcomes an academically well-prepared incoming class with an average grade point average (GPA) of 3.41. The University has seen an ongoing trend of high GPAs for its incoming classes as USI continues to be a campus of choice for students with high academic standards and goals.
USI saw growth in graduate programs in three of its four colleges and expects to see continued growth with the addition of new offerings like the master's degree in criminal justice within the College of Liberal Arts and the education doctorate offered through the Pott College of Science, Engineering, and Education this past year.
Master of Business Administration (MBA) enrollment in the Romain College of Business has begun to level off after six years of continuous growth, reflecting a national trend according to the Association to Advance Collegiate Schools of Business (AACSB). Of the 1,822 graduate students at USI, 1,675 students continue to choose programs exclusively offered online, including the accelerated MBA Program, which added a new concentration in Marketing earlier this year.
A newly created School of Graduate Studies launched this fall replaces the former Graduate Studies at USI and elevates the profile of graduate education across the University. The School of Graduate Studies will continue to meet the needs of recent graduates as well as those already in the workforce looking to enhance career opportunities through new degrees and certifications.
Despite gains in some areas, USI Provost Mohammed Khayum acknowledges challenges remain—challenges being felt across the state and around the country as higher education adapts to changing times. First-time freshmen student enrollment at USI is 1,251, down from last year's 1,327.
"Our success in increasing graduation rates and the resulting record graduating classes place more urgency on reversing the decline in the size of our new freshmen classes," Khayum says. "While we made some headway last year as a result of adjustments in our enrollment activities, this year's decline in the new freshmen class clearly indicates we need to redouble our efforts and make additional adjustments to our enrollment initiatives and activities."
According to the National Clearinghouse, undergraduate enrollment was down nationally 4.7% in the 2022 Spring Semester compared to the previous spring. This represents 662,000 fewer students enrolled across the country. In Indiana, specifically, we are seeing fewer high school graduates deciding to go to college. According to the Indiana Commission for Higher Education, only 53% of high school seniors enrolled in college. This equates to about 4,000 fewer high school graduates going to college in 2020-21 compared to the previous year.
This fall, the University is launching a national search for a Vice President for Strategic Enrollment Management who will guide the University's planning process for enhanced recruitment and retention of students. The position will report to the President of the University and become a member of the President's Council.
The University also is in the process of implementing a new customer relationship management software system (CRM) to better funnel prospective students. While there currently is a CRM in undergraduate admissions, the University is expanding those capabilities designed for traditional undergraduate students by investing in a CRM designed to manage the enrollment experience from prospective student to applicant, enrollment and beyond. The new system will be inclusive of the School of Graduate Studies, Center for Adult Learner Success and Online Learning programs.
"The new Vice President for Strategic Enrollment Management and CRM will be invaluable resources as we look to find new ways to attract future students who will call USI their home and continue this University's long tradition of excellence," says Rochon. "This past week, USI was ranked 14th for Top Public Schools in the Midwest by U.S. News & World Report. As part of our strategic plan, we have made it our goal to increase this great institution's visibility and reputation. This is only the beginning."
Students at USI represent 88 Indiana counties, 47 states and 36 countries. In-state students comprise 77.1% of the student body, with out-of-state and international students making up the remaining 22.9%.