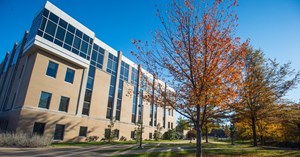 The University of Southern Indiana has announced the approval of an online Bachelor of Science in Electrical Engineering (BSEE) degree completion program. The program, housed within the Pott College of Science, Engineering, and Education, will be offered beginning in the 2023 Spring Semester. Applications are being accepted now.  
The BSEE program is designed specifically for non-traditional students who already hold an associate or bachelor's degree in a technology-related field, and will allow them to extend their education to an ABET-accredited engineering degree.  
"We receive numerous inquiries from working adults who are seeking to complete an engineering degree but need to work full-time," says Dr. Paul Kuban, Chair of the Engineering Department and Professor of Engineering. "This program will allow us to accommodate these students." 
Within the degree completion sequence, seven to nine credit hours will be offered per semester, ensuring the program is suitable for students who need to maintain full-time employment. The course sequence includes offerings in the Spring and Fall Semesters and in both Summer Terms. The program is designed for degree completion in five-and-a-half years if all courses are taken during the Fall and Spring Semesters and both Summer Terms annually.  
"We had a very successful outcome with a previous program that was designed specifically for Crane Naval Surface Warfare Center (NSWC) where we graduated 10 new Crane engineers in December 2021," says Dr. Ronald Diersing, Associate Professor of Engineering. "We're excited to provide this opportunity to the general public." 
A tentative, online BSEE schedule, tuition and fee information and more can be found at USI.edu/BSEE.  
For questions regarding the BSEE degree completion program, contact Kuban at pkuban@usi.edu.