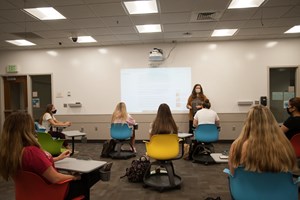 With the Spring 2021 Semester underway for both USI and local school corporations, USI students completing their student-teaching hours in K-12 schools are finding the COVID-19 pandemic creates both obstacles and opportunities.
COVID-19 regulations and safety measures have drastically impacted the way elementary and high school students attend and interact with teachers. For the 53 USI student teachers in the Fall 2020 Semester, this impact stretched beyond the classroom into every detail of their experience.
"I walked into the classroom, with my cooperating teacher, and we had all the desks spaced six-feet out," said Sam Herdegen '20, an English secondary education major. "We had a staff meeting, and we had to bring in our own computer chairs or lawn chairs into the gym, and we had to space six feet apart. We spent a couple hours going through different procedures and started to think 'This is going to be different.'"
"I definitely feel like it was done safely," said Christian Green '20, a special education major who both taught and substituted. "They were very quick if anybody was sick in any way, making sure that they were pulled out of school, people were notified, that if there was any kind of worry it was taken care of. With the way they did the class sizes, it was definitely a lot better in terms of safety—how far everybody was spaced out, how small the class sizes were."
As the semester started, school corporations found they had a problem: many teachers were unable to teach due to illness or exposure to the virus and a need to quarantine. This challenge created a new opportunity for USI students, the offer to substitute teach. After acquiring a substitute teacher permit, students were able to substitute for up to 10 days in their assigned school.
"Student teachers who served as a substitute teacher were able to experience different grade levels, collaborate with many teachers and learn about the strategies used to teach a variety of students," said Joyce Rietman, Director of Advanced Clinical Experience and Co-Teaching for the Teacher Education Department. "The substituting experience often involved virtual planning and teaching. These skills will be important to the new teachers as they begin their careers."
Beyond supplementing their income, USI students said the experience of substituting proved to be invaluable to their educational growth. Of the 53 who taught during the Fall Semester, 28 took advantage of the opportunity to substitute teach.
"Once I secured my sub permit, I was allowed to effectively teach on my own, and then have debriefs with my cooperating teacher about times when she wasn't there," said Green.
For Spring 2021, 60 USI students were expected to student teach according to Rietman. As in the Fall, many of them will have opportunities to substitute teach as well.
"It's been a learning process all together as a teaching community," said Herdegen. "These challenges gave me a lot more experience, and that experience with my cooperating teacher will be there when new challenges arise that I haven't expected. That experience is really rewarding, even if it was a bit more difficult than it would normally be."
For more information about USI's teacher education programs, visit USI.edu/science/teacher-education or contact Dr. Jill Raisor, Chair of the Teacher Education Department, at 812-465-7024.