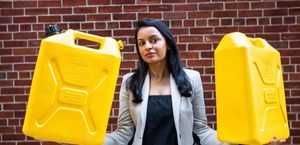 UPDATED: As part of the response to the coronavirus COVID-19, this event has been postponed until further notice.
Aditi Deeg, chief financial officer of charity: water, will serve as the 2020 Executive in Residence for the University of Southern Indiana's Romain College of Business. Her presentation, "The New Non-Profit Paradigm," will begin at 10:30 a.m. Thursday, March 19 in Carter Hall. The event is free and open to the public. Deeg will present her personal story and career development through both for-profit and nonprofit organizations. Her focus will be on leadership and financially rewarding career opportunities in the nonprofit sector.
The nonprofit organization charity: water has impacted more than 10 million lives in developing countries by providing clean and safe drinking water. It has funded water programs in 28 countries around the world in Africa, Asia, South America and Central America.
Prior to joining charity: water, Deeg was the chief operating and financial officer of the Association of Junior Leagues International, Inc. (AJLI), a network of 140,000 women who volunteer as civic leaders in four countries to create community change. 
In both these roles as CFO and COO, Deeg is responsible for being a financial strategist and partner to the executive team to ensure long-term viability of the organization. At AJLI, she also led fund development, human resources, and IT departments and oversaw the day-to-day leadership and general management of the organization.
Deeg serves as a managing partner and board member of Healthtech Women, a global nonprofit organization that empowers female executives in healthcare to lead and educate the community about innovation impacting the healthcare ecosystem.
Previously Deeg held the position of chief financial officer at a mobile healthcare company, and chief financial officer and senior controller positions at large investment management firms.
Deeg received her bachelor's degree from University of Maine and currently participates in various executive leadership programs.  
The Romain College of Business' Executive-in-Residence program provides valuable insights into the business world through the experiences of business executives.