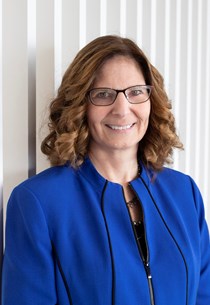 University of Southern Indiana alumna Michelle R. Schroeder '96, chief financial officer of Kimball International, Inc., has been named 2018 Romain College of Business Distinguished Accountant. This honor is awarded annually by the USI Romain College of Business in conjunction with the USI Accounting Circle. The selection criteria includes professional achievement and stature in the accounting industry and USI community involvement and leadership. The award was announced by Accounting Circle chair and 2014 Distinguished Accountant, Steve Mudd, partner at Riney Hancock CPAs PSC.
Schroeder joined Kimball International in 1984, serving in various marketing administrative roles. After attending USI to pursue a degree in accounting, she re-joined Kimball in 1996 and advanced through various accounting and financial leadership roles before becoming CFO. Currently, she holds responsibility for the accounting, SEC reporting, auditing, investor relations, tax, and treasury functions, as well as setting financial strategy and policies for Kimball.
Schroeder is currently a member of the Romain College's Board of Advisors, which is composed of senior business leaders who are acquainted with the needs of the community and of commerce and have a strong interest in establishing and maintaining direct and effective communication between the business world and the business classroom. She was also recognized as "CFO of the Year for Public Companies in Indiana" in 2017 by the Indianapolis Business Journal.