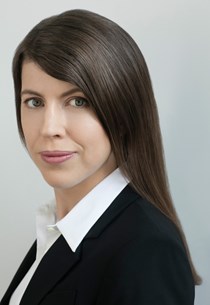 The University of Southern Indiana will host a presentation by Evansville native and acclaimed journalist Keach Hagey from 7 to 8:30 p.m. Thursday, October 18 in Carter Hall located in University Center West. Hagey's presentation, "Covering the Content King," will discuss Viacom chairman and media mogul Sumner Redstone, the intersection of private lives and public markets in family-controlled corporate media, and her journalism career.
This event is free and open to the public. After the event, Hagey will sign copies of her new book, The King of Content, published this year by Harper Collins and available for purchase at the event from the USI Campus Store.
Hagey, media reporter at the Wall Street Journal, was part of the team that won a 2016 "Best in Business" award from the Society of American Business Editors and Writers for their coverage of the power struggle inside Viacom. Before joining the Wall Street Journal, Hagey covered media for Politico, The National newspaper in Abu Dhabi, CBSNews.com, and The Village Voice.
 
Hagey grew up in Evansville, Indiana, and graduated from Evansville Day School. She has a master's in English literature and bachelor's degrees in English and French from Stanford University. She currently resides in Irvington, New York with her husband, daughters and dog. 
This event is sponsored by the Romain College of Business and the College of Liberal Arts. For more information, contact Erin Gibson, instructor of journalism, at 812-465-1125 or emgibson@usi.edu.