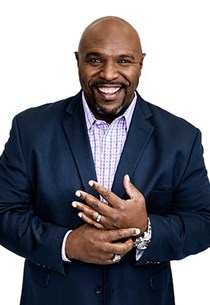 Chris Hogan, best-selling author of Retire Inspired: It's Not an Age. It's a Financial Number, will present "Your Financial Decisions Today Will Determine Your Financial Future" at 9 a.m. Thursday, October 25 in Mitchell Auditorium located in the Health Professions Center on the University of Southern Indiana campus. Hogan's presentation is free and open to students and the public.
For over a decade, Hogan has served at Ramsey Solutions, spreading a message of hope and financial peace across the country as a financial coach and Ramsey Personality. Hogan helps people plan for their future and reach their retirement goals through his Retire Inspired Podcast and Retire Inspired events.
As an All-American football player and national champion in college, he understands teamwork and speaks to organizations nationwide on how to effectively run and grow their businesses. Prior to joining Ramsey Solutions, he was the vice president of a well-respected company helping clients manage their money and their companies.  He is a regular contributor to the EntreLeadership Podcast, one of the leading podcasts on business and leadership.
Hogan has a bachelor's degree in communication arts from Georgetown College and a master's degree in communications with an organizational and business emphasis from California University of Pennsylvania. He can be found on social media at @ChrisHogan360 and online at chrishogan360.com.